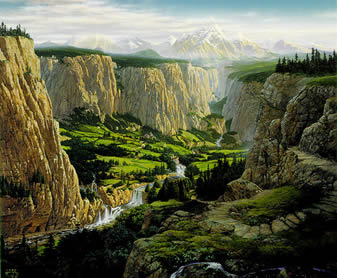 The Lord of the Rings
Everybody knows this masterpiece by J.R.R. Tolkien. It is one of the most famous novel of the world and after the three movies by Peter Jackson it is now even more famous.

I was fifthteen years old when I read it for the first time and as many of you I was really impressed by Middle-Earth, so I was "forced" to dedicate my first cd to this book.
Credits

Acoustic Guitars, Electric Guitars, Keyboards and Programming by Dario Belloni

Additional Keyboard on "Helm's Deep" by Paolo Baracetti

Cover image by Ted Nasmith

Music

Composed, arranged, performed mixed by Dario Belloni

Recorded between October 1997 and February 1998

Mixed and mastered between march and April 1998

Thanks to:

Alok
Desirée De Angeli
Andrea Ferrari
Corrado Giulio
Paolo Turconi
Andrea Zagato

VERY SPECIAL THANKS TO:
Paolo Baracetti

Styles:

Being my first work, there is not a unique style but it is a kind of collection of ideas I gathered during the last years.
Some tracks seems new age, others have a middle-age taste, elsewhere the classical influence appears.

Sounds:

Execept my guitars, all the other sounds comes from Proteus 1 and 2.