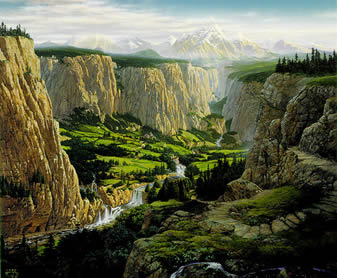 The Lord of the Rings
Tutti conoscono il capolavoro di Tolkien, è uno dei libri più famosi della storia e dopo il successo della versione cinematografica di Peter Jackson Il Signore degli Anelli ora è un'opera universale.
Avevo 15 anni la prima volta che lessi Tolkien e destò in me una grandissima impressione. A me, come a moltissimi miei coetanei, la Terra di Mezzo rimase nel cuore e fu quindi una scelta quasi obbligata quella di scegliere questo libro come soggetto del mio primo cd.
Chitarre acustiche, chitarre elettriche, tastiere e Programming: Dario Belloni

Tastiere in "Helm's Deep": Paolo Baracetti

Immagine di copertina: Ted Nasmith

Composto, arrangiato, inciso e mixato da Dario Belloni

Registrato tra Ottobre 1997 e Febbraio 1998

Mixato e masterizzato tra Marzo e Aprile 1998

Ringraziamnti:

Alok
Desirée De Angeli
Andrea Ferrari
Corrado Giulio
Paolo Turconi
Andrea Zagato

Ringraziamenti speciali :
Paolo Baracetti

Stile:

Essendo il mio primo lavoro lo stile non è omogeneo ma vengono raccolte molte idee musicali che avevo elaborato negli anni precendenti all'incisione del cd.
Alcune tracce sono in perfetto stile new age, altre risentono di influenze classiche, celtiche e medioevali.

Suoni:

A parte il suono delle chitarre ogni altro suono appartiene ai Proteus 1 o 2 e alla tastiera Korg M1.